Grapefruit Honey Ale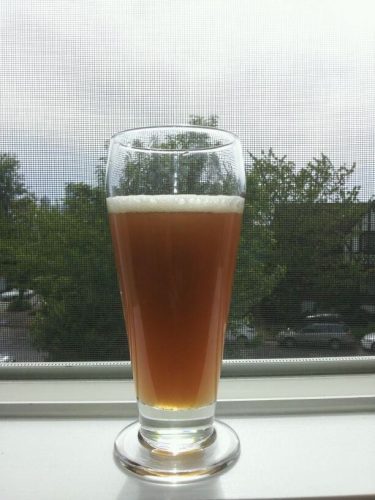 This is our first brew from Brooklyn Brew Shop's Beer Making Book. The book contains recipes for small 1‑gallon batches, but does include changes for making a normal 5‑gallon batch.
This Grapefruit Honey Ale sounded terrific to have ready to drink in Spring and Summer.
Results
Overview
Starting Gravity (actual)
Starting Gravity (expected)
Final Gravity (actual)
Final Gravity (expected)
Being familiar with other brewing recipes, it was odd that this one didn't include starting or final gravity numbers.  Maybe the target audience for 1-gallon batches doesn't really care?  It's just nice to have them as a rough guide.
When tasting the wort there was a noticable bitter grapefruit aftertaste (in a good way).
Brewing Notes
Timeline
Brewed on
Transferred on
Bottled on
Tasted on
This was a confusing book because the recipes are for 1-gallon batches with only a small sidebar for a normal 5-gallon batch.
We had to make many substitutions for available malts and to use up some hops that we already had on hand.
We used 5 "small" grapefruits (instead of the ridiculously large grapefruits). The recipe only calls for roasting their peels.