Blood Heirloom Navel Orange Hefeweizen
We used the recipe for the Blood Orange Hefeweizen from Extreme Brewing but instead of out-of-season blood oranges we used in-season heirloom navel oranges. We know that it won't be much like the recipe, but it still sounds good.
Results
Overview
Starting gravity (actual)
Starting gravity (expected)
Final gravity (actual)
Final gravity (expected)
The beer wasn't fully carbonated when we first tasted it (see picture at top). That was after only about a week in the bottle, but once it did carbonate it was tasty.
Recipe
Malt
6.6 lbs light liquid wheat extract
Hops
0.5 oz Hallertau hop pellets
(used German Hersbrucker)
0.5 oz Saaz hop pellets
0.5 oz Hallertau hop pellets
(used German Hersbrucker)
Yeast
Wyeast 3068 Weihenstephan Weizen
Other
4 average sized blood oranges
(used Heirloom Navel Oranges)
Brewing Notes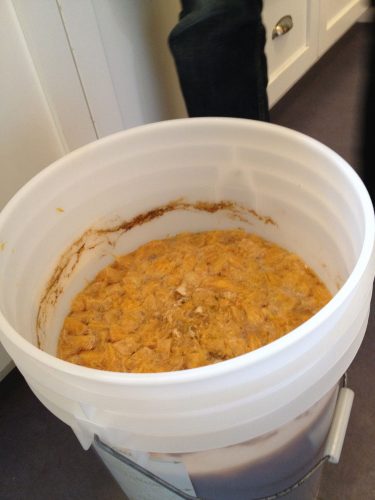 Timeline
Brewed
Transfered
Bottled
Tasted
For the Hallertau we substituted German Herbrucker hops, which are a spicier version of Hallertau.
No other substitutions noted (except for the oranges, of course).
We used a plastic fermentation bucket so that we didn't have to worry about getting the orange pieces out of a carboy.  
Good decision.