Tipsy Trappist
This is our second test beer as a candidate for barrel aging. We followed the recipe from BYO's Belgian Abbey Style of the Month article (although the link is apparently dead). We also got a little help from our buddy Ty on this batch!
Results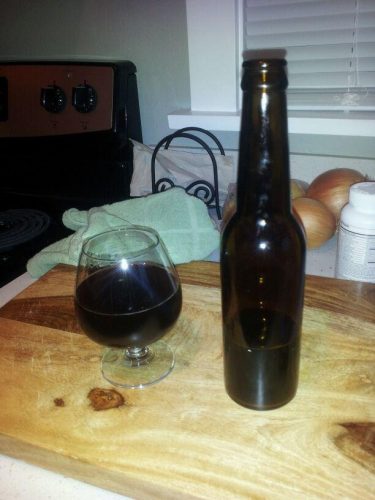 Overview
Starting gravity (actual)
Starting gravity (expected)
Final gravity (actual)
Final gravity (expected)
The first tasting of the Tipsy Trappist was disappointing and flat.
It's terrible!
Merry Christmas
Update: Still bad after a few months. For what I think is the first time ever with a homebrew, I even poured out a few of the remaining bottles.
Recipe
Malt
5.5 lbs light liquid malt extract
1 lb Pale Lager malt**
(used German Pilsner)**
3 lbs 20L Munich malt**
(used a 50-50 mix German Munich 10L and 30-35L)**
1 lb Wheat malt**
(used Malted White Wheat)**
0.5 lb Biscuit malt
Hops
2.5 oz Styrian Goldings 5.5% with no notes on boil order**
(used 2.5oz Tettnanger 6.3%)**
Yeast
Wyeast 1214 Belgian Abbey
Other
1 lb dark candi sugar**
(used 16oz premium extra dark belgian candy syrup)**
Brewing Notes
Timeline
Brewed
Transferred
Bottled
Tasted
This recipe is a partial mash, which we've never done before but doesn't seem too complicated: Partial Mashing (BeerSmith). Maybe that was our downfall or we weren't careful enough with keeping it clean.
We sparged for 90 minutes in 2 gallons of water at 155 degrees in a blue picnic cooler. Then added up to a total of 6 gallons to start the wort.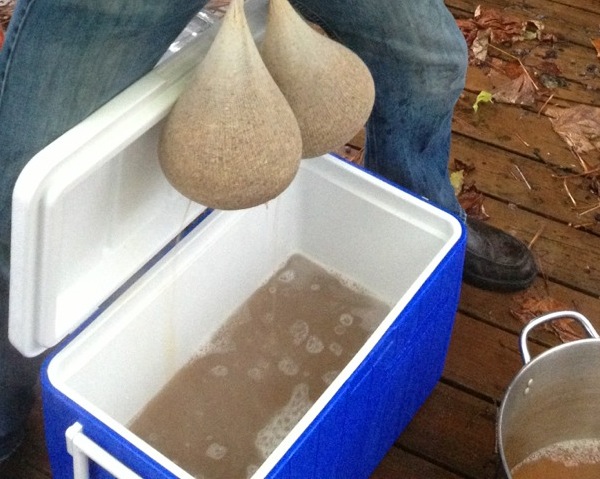 Oh, and it rained so we improvised some shelter.