Barrel-Aged Canadian Imperial Stout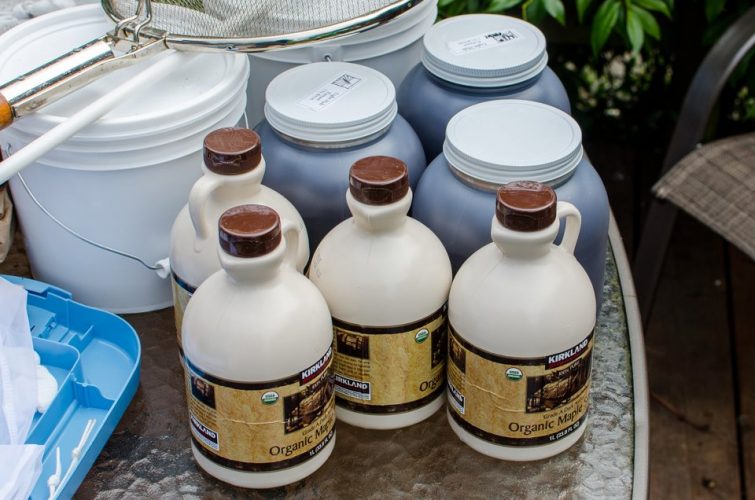 We're brewing four batches to fill a 13.5 gallon Dry Fly Wheat Whiskey barrel! That should give us enough (~16 gallons or so) to fill the barrel and have extra to top off and maybe keep some as a control batch.
For our barrel project we decided on the recipe from The Homebrewer's Recipe Guide that we used on our first test batch.
Results
Overview
Starting gravity (actual)
Starting gravity (expected)
Final gravity (actual)
Final gravity (expected)
ABV
Recipe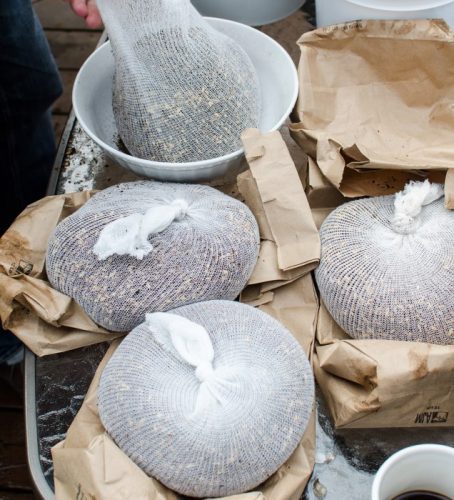 The recipe for a single batch, with substitutions noted:
Malt and Sugars
10 lbs Amber liquid malt extract
1lb roasted barley
0.5lb 40L+ crystal malt
0.25lb chocolate malt
0.25lb black patent malt
1 qt maple syrup
(1L bottle Grade A maple syrup from Costco)
Hops
4oz Northern Brewer (A=9.6%) (bittering)
(used Nugget A=13.3%)
4oz Fuggle (A=5.7%) (flavoring)
(used US Saaz A=7.6%)
1oz Cascade (aroma)
(2oz pellet, 2oz leaf)
Yeast
1 package Irish Ale yeast
(we split 6 packages across 4 batches)
Brewing Notes
Timeline
Brewed on
Transferred to secondary
Transferred to barrel
Sampled from barrel

June 1, 2013
July 3, 2013

Bottled on

August 12, 2013
August 19, 2013 (vanilla bean)

Tasted from bottle (flat)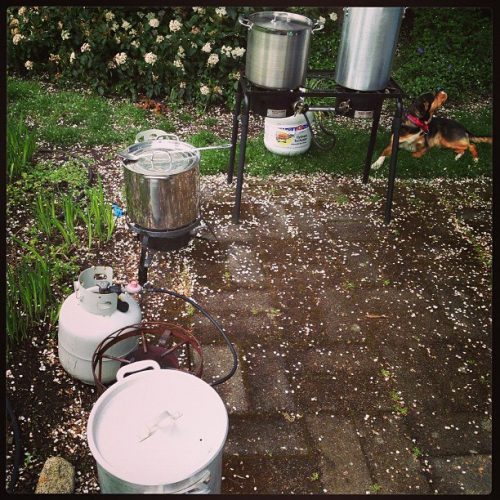 Four simultaneous brew stations! Offset by ~20 minutes each.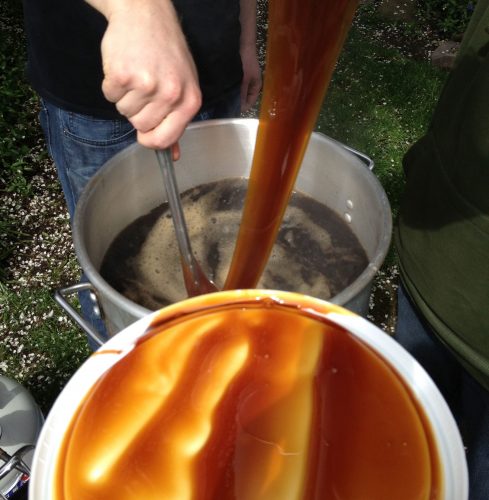 10 lbs of liquid malt extract for each batch! And of course we had a boil-over (but only one!).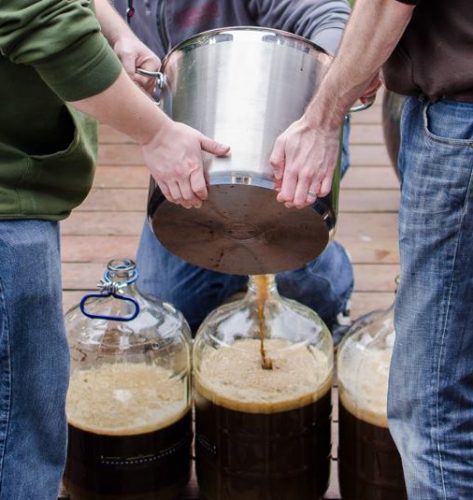 We split the four batches across five carboys. Most were 5-gallon carboys, which didn't hold a full batch during primary fermentation of our earlier test batch.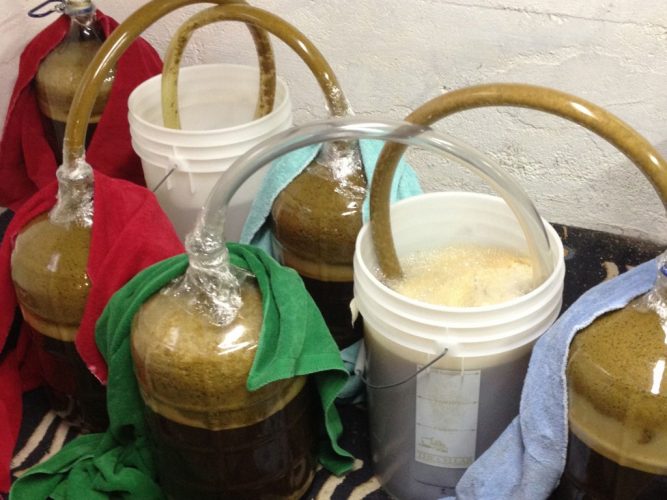 All tucked in for a good nights sleep? Not exactly. We probably should have known better than to use an airlock on such a big beer! Unfortunately, we were short one blowoff tube and had to get an emergency blowoff tube to avoid an overnight disaster.